Wiki Targeted (Entertainment)
Play Sound
Gerard Way is an American singer, songwriter, musician, and comic book writer who was the lead vocalist and co-founder of the rock band My Chemical Romance from its formation in September 2001 until its split in March 2013. His debut solo album Hesitant Alien was released on September 30, 2014. Way is also the co-founder of DC Comics' Young Animal imprint. He wrote the comic mini-series The True Lives of the Fabulous Killjoys and the comic book series The Umbrella Academy.
Early Life
Gerard Way was born on April 7, 1977 in Summit, New Jersey. He originally wanted to be a guitarist but was discouraged by his lack of talent and turned to a career in art instead.
My Chemical Romance
He eventually returned to music forming the band My Chemical Romance. They performed from 2001-2013 when they broke up. Way used songwriting as his outlet to deal with stress in his life.
Writing Career
Way had been writing since he was a child and released the first volume of The Umbrella Academy on May 5, 2007, and The Umbrella Academy: Dallas on November 6, 2008. He later released the miniseries True Lives of the  Fabulous Killjoys (based on My Chemical Romances album "Danger Days: True Lives of the Fabulous Killjoys") on June 12, 2013.  
Solo Career
After My Chemical Romance broke up in 2013, Way decided to start a solo career and stated that after the Killjoys series was done he would take a break from writing to focus on his music. He postponed the third volume of The Umbrella Academy: Hotel Oblivion, saying he would return to writing comic books "when the time was right."
Personal Life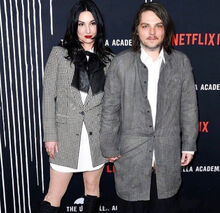 Gerard Way married Lyn-Z, bassist of Mindless Self Indulgence, on September 3rd, 2007, after a concert in Colorado, backstage on the final date of the Projekt Revolution tour. Their daughter, Bandit Lee Way, was born on May 27, 2009. The family lives in Los Angeles, California. He has struggled with depression, alcoholism, and prescription pill addiction, but has since regained sobriety and has "become a happier person."
Community content is available under
CC-BY-SA
unless otherwise noted.